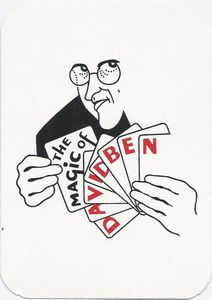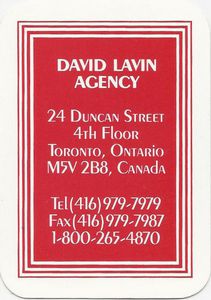 David Ben - Throw Out Card
In Collection


#2010
10*
Magic
Memorbilia, Ephemera 
David Ben Throw Out Card-Caricature and Agent Listing-ca. 2000

This is a David Ben Throw Out Card, circa. 2000.
FRONT: Caricature of him with fan of cards that has text, "The magic of DAVID BEN"
BACK: Red color back with text for his agent, David Lavin Agency, Toronto, Canada.

DATE: Circa 1920s/30s
SIZE: 3 1/4 by 7 1/8 inches, printed on both sides.

COND: Minor edge wear, corner bends, all stabilized with archival tissue tape. Very Fine Condition.

Read It
No
Location
Magic Library (Home)
Condition
Mint
Owner
Bryan-Keith Taylor
From Magicpedia, courtesy of Genii Magazine:

David Ben (b. 1961) retired from practicing tax law to pursue a career in magic and was the sole protégé of Ross Bertram. He is a member the Magic Circle and has performed throughout the United States, Canada, England and Japan. Ben was the co-writer, performer and producer of three critically acclaimed shows: The Conjuror, The Conjuror's Suite, and Tricks. He was the subject the documentary film "A Conjuror in the Making" which aired on Breakfast with the Arts on the A & E Network.

Television appearances
Michael Coren Live (3 times)
Open Mike: The Mike Bullard Show (3 times)
Pamela Wallin Live (3 times)
Canada AM (3 times)
The Dini Petty Show (2 times)
Breakfast Television (6 times).