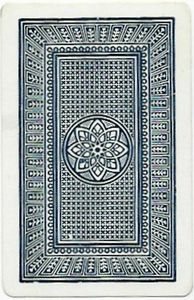 Duane Price Throw Out Card - Throw Out Card
In Collection


#1903
10*
Magic
Memorbilia, Ephemera 
Duane Price Throw Out Card-Huntsville Alabama-Rabbit in hat in red ink

Duane Price Throw Out Card
FRONT: Text, "DUANE PRICE / 2621 Hoffman Drive / Huntsville, Alabama / 35810". Image in red ink is a rabbit in a top hat and work "MAGICIAN".
Duane Price Throw Out Card-Huntsville Alabama-Rabbit in hat in red ink-vFINE

BACK: Standard Blue back Aviator pattern
The following is from the IBM Broken Wand webpage:

13 Magicians Honored in March 2016 Broken Wand

DATE: Late 20th century.
SIZE: 2 1/4 by 3 1/2 inches.
COND: All in otherwise very Fine, almost Mint condition.

Read It
No
Location
Magic Library (Home)
Condition
Very Fine
Owner
Bryan-Keith Taylor
DUANE PRICE
The I.B.M. Headquarters recently learned that T. Duane Price, 75, of Huntsville, Alabama, died August 24, 2015. His membership number was 27342 when he was a member, 1974-2010. He had rejoined the I.B.M. in February, 2015. He was a member of the Order of Merlin Shield (thirty-five years a continuous member). He started in magic in 1954, putting on a magic show with a friend for their church youth group. That led to birthday parties and later working his way through college doing magic. He credits local magic dealer Robert Chadwick and magic collector and attorney Don Spurrier with early help in his career. His stage name was "Tilton the Terrible." He retired from Georgia Tech as Director of the Missile Defense Date Center, and was Program Director at Teledyne Brown Engineering for thirty years. In addition to magic, he was an avid golfer, bowler, wood worker, fireworks enthusiast, and book collector. Survivors at the time of his death included daughters Karen (Scott) Martin, and Nancy Ann (Tom) Frazier; and grandchildren Avery and Alex Behr. Memorial contributions may be made to the Alabama Kidney Foundation.