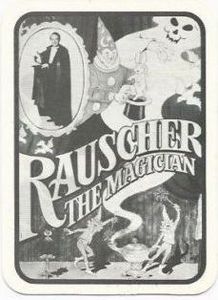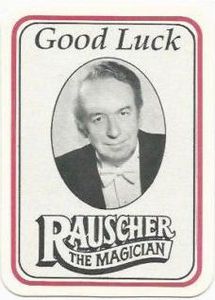 Reverend William Vernon Rauscher - Throw Out Card
In Collection


#1904
10*
Magic
Memorbilia, Ephemera 
Throwout Card-Good Luck Rauscher the Magician-Poster back-ca.2000-v.FINE--

FRONT: Oval in center with his photo. Text above and below, "Good Luck / Rauscher the Magician"
BACK: Reprint of one of his posters. His image in top left corner. Name in center.
DATE: Circa 2000
SIZE: Card is 2 3/4 by 3 3/4 inches, round corners.
COND: All in otherwise very Fine, almost Mint condition.

Read It
Yes
Location
Magic Library (Home)
Current Value
$45.00
Condition
Near Mint
Owner
Bryan-Keith Taylor
From Magicpedia, courtesy of Genii Magazine: Reverend William Vernon Rauscher (b. 1932) is a magic historian and lecturer.

Books

John Calvert: Magic and Adventures around the World (1987)
Servais Le Roy: Monarch of Mystery (with Mike Caveney - 1999)
The Houdini Code Mystery (2000)
Pleasant Nightmares: Dr. Neff and His Madhouse of Mystery (2008)