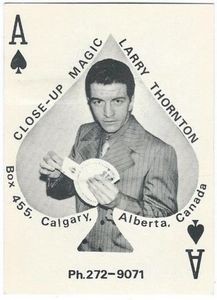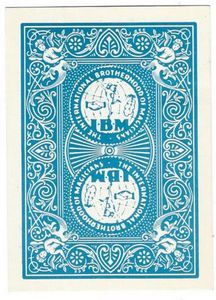 Larry Thorton - Throw Out Card
In Collection


#1917
10*
Magic
Memorbilia, Ephemera 
Throwout card-Canadian Close-up magician- Larry Thorton-Calgary-ca.1970s-v.FINE---

Throwout card-Canadian Close-up magician- Larry Thorton-Calgary-v.FINE

FRONT: His photo holding a fan of cards in the large Spade center pip of the Ace of Spades. Text around, "CLOSE-UP MAGIC LARRY THORNTON Box 455, Calgary, Alberta, Canada Ph.272-9071

BACK: Blue back Bicycle style pattern, with IBM logos in center.

DATE: Circa 1970s
SIZE: 2 1/2 by 3 1/2 inches, square corners.
COND: All in otherwise very Fine, almost Mint condition.

Read It
No
Location
Magic Library (Home)
Condition
Mint
Owner
Bryan-Keith Taylor

From the Canadian Magician's Archive website:

Thornton, Larry 19--

Started exploring public library in 1950's at the
age of nine or ten and discovered magic
books. Interest in magic led to seeing ads in
magazines by American mail-order magic
companies and after buying small tricks
showed them to classmates and friends. At
15, joined a correspondence organization
created by and for teenagers called The
American Magic Club. Wrote articles for the
club newsletter and designed crossword
puzzles for same. One year later met first
magicians and was introduced to local magic
club.
1968, joined I.B.M.
Now Order of Merlin Excaliber
Attended magic conventions in Alberta, B.C.,
Montana and California and won first place in
close-up at one of them.
During mid 1970's, started performing magic
shows professionally for children and family
audiences in Calgary and throughout
southern Alberta, expanding ever since.
Other hobbys include reading science books,
biking the Calgary trails and weight training.