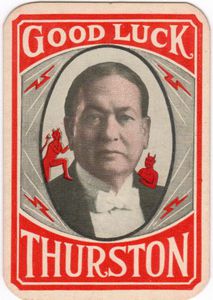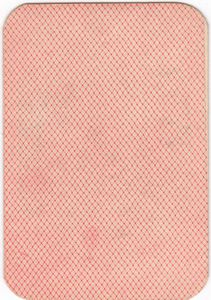 Harry Thurston - Throw Out Card
 (1930)
In Collection


#1918
10*
Magic
Memorbilia, Ephemera 
Harry Thurston Throw Out Card (c.1930's Howard Thurston's Older Brother )

Very Scare Throw Out Card From Harry Thurston's Brief Career As A Magician. He Was The Brother Of The Famous Howard Thurston, One Of Magic's Greats! This Scarce Card Is In Great Problem Free Condition On A Nice Stock. This Is An Original Card From The 1930's.


Harry Thurston attempted a tour or two without too much success in the 1930's. He had help from George Boston, Percy Abbott, Levante, and others while he toured with his tent show. There is very little evidence of Harry's travels. His posters were limited to mostly stock images, his brochures were produced for just what was necessary to get by,...and then there were his throw out cards. He only made what he needed and when they were gone, they were not produced again. Harry didn't follow in his brother's footsteps in so many ways. Harry left this world with a little more jingle in his pocket than his brother Howard. Most of the throw out cards were handed out back then but, by a stroke of luck, here is one of Harry's throw out card that "got away". This is a real rare find. In case there is any question... yes, it is original and, yes... this is Harry smiling.

Read It
Yes
Location
Magic Library (Home)
Current Value
$75.00
Condition
Very Fine
Owner
Bryan-Keith Taylor
HARRY IHURSTON
Now deceased Not as well known as his famed brother, Howard, but none
the less a successful showman m his own right and toured a large illusion
offering for many seasons He also dabbled tn Chicago politics
(from October 1950 Genii Magazine)

------------------------------------------------------------------------------------------------------------------------------------

Harry Thurston ( 1867 - March 7, 1941)
was the older brother of the more famous Howard Thurston who also had a short career as a magician.

Harry started out in the world of carnivals and circuses and for a time was an advance man for Ringling Brothers.

With the success of his brother in magic, he was tempted him to try it too. Harry's wife, Rae, worked in the act as Princes Ranee. He toured for a couple of years, before returning to Chicago where for almost 20 year he lived on the forth floor of a burlesque house in the Levee District. He evenutlaly achieved finicial success in the underworld their.

In Percy Abbott's biography, "A Lifeime in Magic', he describe his unhappy experience with working for Harry, who would fire and hire assistants on a daily basis. George Boston also later worked as stage manager for Harry described his better experience in his book "Inside Magic".

When Harry Thurston died in Miami, Florida newspapers only reported that the brother of the late Howard Thurston was dead. The Associated Press obituary only contained in a single line: "He was formerly a vaudeville actor."

References
A Lifetime in Magic by Percy Abbott (1960)
Inside Magic by George Boston (with Robert Parrish) (1947)
The Other Thurston by Gerald A. Schiller in Genii 2009 May