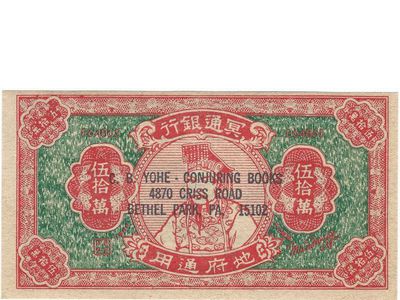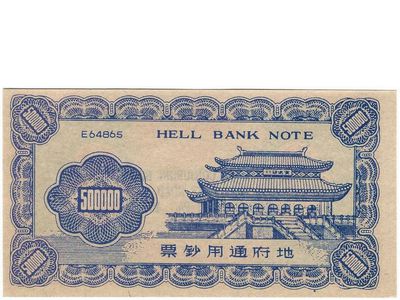 C. B. Yohe Advertising Banknote
In Collection


#2001
10*
Magic
Memorbilia, Ephemera 
C. B. Yohe - Chinese Hell Note with his counterstamp-ca.1960s/70s

Magician C. B. Yohe-Chinese Hell Note with his counterstamp-ca.1960s/70s. Like an advertising banknote, Yohe used these Chinese Hell Notes as give-aways. He stampe his name and address on one side, as seen in the attached scanned image.

Hell money is a form of joss paper printed to resemble legal tender banknotes. This faux money has been in use since at least the late 19th century and possibly much earlier. Early 20th century examples took the resemblance of minor commercial currency of the type issued by businesses across China until the mid-1940s.[1] The notes are not an officially recognized currency or legal tender since their sole intended purpose is to be offered as burnt-offerings to the deceased as often practiced by the Chinese and several East Asian cultures.

DATE: Circa 1960s/70??
SIZE: 2 1/2 by 4 3/4 inches.
COND: In otherwise very Fine, almost Mint condition.

Read It
No
Location
Magic Library (Home)
Condition
Very Fine
Owner
Bryan-Keith Taylor
From Magicpedia, courtesy of Genii Magazine:

C. B. Yohe (1904-1988) was an engineer and mail-order book dealer in Pennsylvania. Working for the Corps of Engineers, U. S. Army, Pittsburgh Division for 34 years, he was involved in the construction and maintenance of river locks and dams, and flood control in the Pennsylvania area. He also worked briefly in Boston in 1934 and then retired in 1964. Yohe took up magic in earnest in 1941, after seeing the Dante Show. He was one of the founding members of Mystic 52 in Pittsburgh.