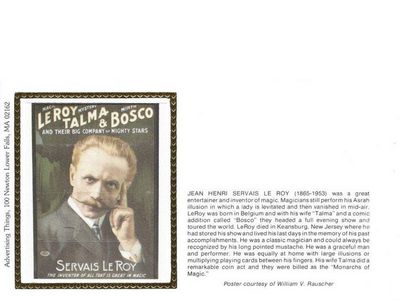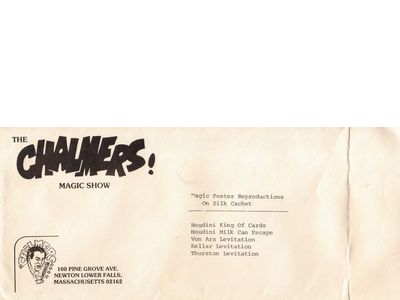 Le Roy, Talma & Bosco - Silk Cachet
Dick Chalmers (1994)
In Collection


#2013
10*
Conjuring
Ephemera, Memorbilia
Memorbilia, Ephemera 
U.S.A. 
Silk Cachet Envelope With Silk Poster - Servais Le Roy. -MINT-

Silk Cachet Envelope With Silk Poster, enclosed in embossed gold frame, put out in 1994 by Dick Chalmers, Newton Lower Falls, Massachusetts. On left of the envelope is a printed miniature silk poster. To the right is text on the poster and the magician. This poster is of Jay Marshall.

DATE: 1994
SIZE: Poster is 2 5/8 by 3 3/16 inches, on envelope of 3 5/8 by 6 1/2 inches.
CONDITION: Mint condition.

Mint Limited Edition, Long Sold Out

The commemorative envelope was marketed by the New England Magic Collectors Association and Advertising Things and released in conjunction with The Yankee Gatherings IV and V. There were two editions of each envelope released, one with a postage stamp and a rubber event stamp and the un-cancelled version we are offering here. In addition to the description of the magician pictured are beautiful Colorano Silk Cachets of the magicians or their vintage posters. The Cachets are around 2.25x2.88" and the envelopes are around 6.5x3.63" in size. The quality is in mint condition.

Read It
No
Location
Magic Library (Home)
Condition
Mint
Owner
Bryan-Keith Taylor
Servais Le Roy "Inventor Of All That Is Great In Magic" Cachet Envelope

From the envelope: Jean Henri Servais Le Roy (1865-1953) was a great entertainer and inventor of magic. Magicians still perform his Asrah illusion in which a lady is levitated and then vanished in mid-air. Le Roy was born in Belgium and with his wife "Talma" and a comic addition called "Bosco" they headed a full evening show and toured the world. Le Roy died in Keansburg, New Jersey where he had stored his show and lived his last days in the memory of his past accomplishments. He was a classic magician and could always be recognized b his long pointed mustache. He was a graceful man and performer. He was equally at home with large illusions or multiplying playing cards between his fingers. His wife Talma did a remarkable coin act and they were billed as the "Monarchs of Magic." (Poster courtesy of William V. Rauscher). Released on November 5, 1994 at Yankee Gathering V.