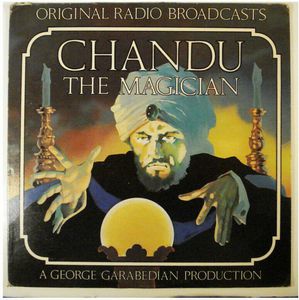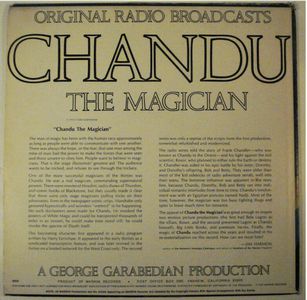 Vintage Chandu the Magician record - Original Radio Broadcasts
George Garabedian (1974)
In Collection


#1839
10*
Conjuring
Ephemera
Memorbilia, Ephemera 
Vintage Chandu the Magician record-Original Radio Broadcasts-1974-
(George Garabedian)

This is a 33 1/3 lp record in the original card cover. This is one of many magic theme albums from this collection of Jerry Fields. If there is an magic theme record that you are seeking, please email me. If it is here in the collection, I will put it on ebay.

Chandu the Magician record, Original Radio Broadcasts, A George Garabedian Production, Marks 56 Records, 1974. Back of album cover has history of the Chandu radio programs.

DATE: 1974
SIZE: Record cover is 12 1/2 by 12 1/2 inches. Record is a stereo LP 33 1/3 rpm
CONDITION: Record appears to be fine. No scratches. Record cover has minor use marks.

Read It
No
Location
Magic Library (Home)
Condition
Very Fine
Owner
Bryan-Keith Taylor
From Wikipedia:

Chandu the Magician is an American supernatural radio drama which originally aired from 1931–1936. A revival on a different network took place 12 years later, airing from 1948–1950. The series was created by Harry A. Earnshaw (1878–1953) and Raymond R. Morgan. The two series starred Frank Chandler, also known as Chandu, an American who had learned mystical arts, such as astral projection, which he used to fight criminals and villains, including the evil Baron Roxor. Chandu was Stan Lee's inspiration for the more famous Marvel Comics character Doctor Strange.

Launched in 1931 on KHJ in Los Angeles, the series was soon heard through the West Coast when broadcast on the Don Lee Network. It was then heard, starting in February 1932, over WOR in the East. Nationally, it aired over the Mutual Network beginning on October 8, 1932. The series was sponsored by White King Soap in the West and by Beech Nut Gum in the East.
Gayne Whitman played the lead role of American-born Frank Chandler, who had learned occult secrets from a yogi in India. Known as Chandu, he possessed several supernatural skills, including astral projection, teleportation and the ability to create illusions. Chandu's goal was to "go forth with his youth and strength to conquer the evil that threatens mankind". His sister, Dorothy Regent, was portrayed by Margaret MacDonald.

George Garabedian

Real Name
George Garabedian
Profile
Southern California musician-producer and founder of Mark56 Records.
Search
Search for variations of George Garabedian
– Chandu The Magician (Original Radio Broadcast)
Label:
Mark56 Records – 655
Format:
Vinyl, LP
Country:
US
Released:
1974
Genre:
Non-Music
Style:
Radioplay
Tracklist
A1 Radio Broadcast No. 1
B1 Radio Broadcast No. 2
Notes
A George Garabedian Production