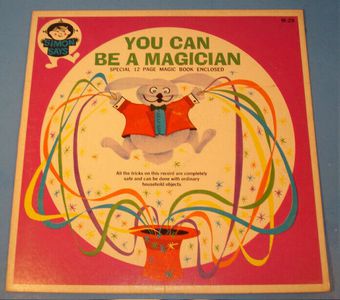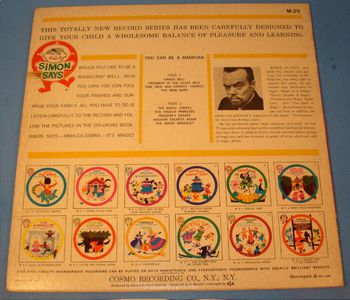 Vintage ou Can Be A Magician Record Album-Bruce Elliott-With internal booklet
In Collection


#1840
10*
Conjuring
Ephemera
Memorbilia, Ephemera 
Vintage ou Can Be A Magician Record Album-Bruce Elliott-With internal booklet

This is a 33 1/3 lp record in the original card cover. This is one of many magic theme albums from this collection of Jerry Fields. If there is an magic theme record that you are seeking, please email me. If it is here in the collection, I will put it on ebay.

CURRENT RECORD: You Can Be A Magician Record Album, by Bruce Elliott. The internal booklet is with the record.

Tracklist
1 The Frozen Princess
2 The Magic Jewels
3 Prisoner In The Glass Bell
4 Tom, Dick And Harriet, Harriet
5 Houdini Escapes Again
6 The Iron Bars
7 Houdini's Escape
8 The Magic Bracelet
9 Tinker Bell

Front sleeve:
This high fidelity microgroove recording can be played on both monophonic and stereophonic phonographs with equally brilliant results
Simon Says You Can Be A Magician
Special 12 page Magic Book enclosed
All the tricks on this record are completely safe and can be done with ordinary household objects

Back sleeve:
This totally new record series has been carefully designed to give your child a wholesome balance of pleasure and learning.

Would you like to be a magician? Well, now you can! You can fool your friends and surprise your family. All you have to do is listen carefully to the record and follow the pictures in the coloring book. Simon says - abra-ca-dabra - it's magic!

Bruce Elliott, who wrote this record, and portrays the character of Mr. Magician, has every right to assume this name. He has written four textbooks on magic, "Magic as a Hobby," "Classic Secrets of Magic," "Professional Magic Made Easy," and "The Best in Magic," all published by Harper and Row. In addition, he edited and published a magician's trade paper, "The Phoenix," for more than thirteen years. He has performed before large audiences and small, his last TV appearance having been on the old Arthur Godfrey big Wednesday night show. In addition to this, he has lectured before groups of magicians and has invented a variety of tricks which are sold in magic stores.

DATE: No printed date on record or album. Probably from the 1950s or 60s.
SIZE: Record cover is 12 1/2 by 12 1/2 inches. Record is a stereo LP 33 1/3 rpm
CONDITION: Record appears to be fine. Record cover has minor use marks.

Read It
No
Location
Magic Library (Home)
Condition
Very Fine
Owner
Bryan-Keith Taylor
From Magicpedia, courtesy of Genii Magazine:
Bruce Elliott (1914-1973) was an American writer who wrote mystery fiction, science fiction, television scriptwriter and magician.[1]

Elliott was the writer of 15 Shadow stories that appeared in "The Shadow Magazine" between 1946 and 1948.

He was a contributor to the Jinx and co-founded the Phoenix with Walter B. Gibson.

In November 1972, Elliott was hit by a taxi and lapsed into a coma. He died 4 months later.

Books
Magic As A Hobby (1948)
Classic Secrets of Magic (1953)
The Best In Magic (1956)
Professional Magic Made Easy (1959)