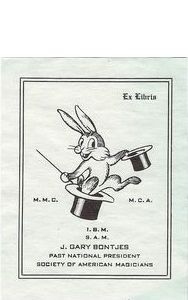 J.Gary Bontjes - Bookplate
In Collection


#2251
10*
Conjuring
Magician
Bookplate 
J.Gary Bontjes Bookplate
Rabbit jumping from hat-Past Pres. S.A.M.


J.Gary Bontjes Bookplate
FRONT: Image of a rabbit jumping from hat. "Ex Libris" in upper right corner. Text of his magic affiliations to side and below rabbit.
BACK: Blank, no glue residue.
DATE: Circa 1980s
SIZE: 2 1/2 by 3 1/4 inches.

COND: All in otherwise very Fine condition.

From Magicpedia, courtesy of Genii Magazine:

J. Gary Bontjes (1935-1985), who worked in the real estate business, was an amateur magician who served as National President of the S.A.M. in 1971.

Bontjes enjoyed magic and frequently performed with his wife, Char, and two children. He was a collector of magical texts and paraphernalia and a member of the Magic Collectors Association. He also carried I.B.M. No. 12898 since 1963 and was a member of Ring 48 in Peoria,Illinois.

He was a strong supporter of the Society of American Magicians Hall of Fame, which he is also a member.

Read It
No
Location
Magic Library (Home)
Condition
Near Mint
Owner
Bryan-Keith Taylor