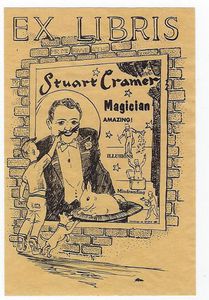 Stuart Cramer - Bookplate
In Collection


#2460
10*
Conjuring
Magician
Bookplate 
Stuart Cramer Bookplate

Boy draws mustache on Cramer poster

FRONT: Image is of a Cramer poster on a brick wall, with a boy drawing a mustached on Cramer's face.
BACK: Clean, no glue remnants.
SIZE: 2 1/2 by 3 3/4 inches.
COND: All in otherwise very Fine, almost Mint condition.

From Magicpedia, courtesy of Genii Magazine:
Stuart Cramer (1911-2003), even though graduated with a law degree from Western Reserve University in 1936, was a professional magician nearly all of his life.

Cramer returned to Cleveland where he grew up after serving in the Navy in World War II and used it as a base throughout his long performing career.

He performed on a Cleveland television station in 1947, with a twice-weekly ten-minute live-audience kid show. He created "Professor Nemo," a Saturday morning magical-cowboy character who resided two years at WNBK-TY. He continued in TV into the 1960s. He once did a daily weather report, presenting trick every day, as "Mr. Meriweather" for three years.

He met the reclusive Cleveland magician Karl Germain in 1932, and worked in weekly visits with him.

Read It
No
Location
Magic Library (Home)
Condition
Very Fine
Owner
Bryan-Keith Taylor