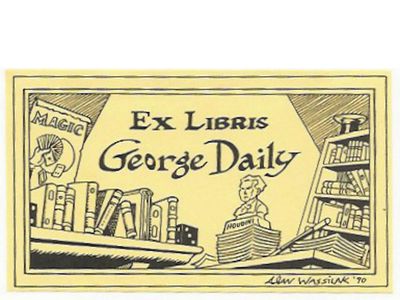 George Daily - Bookplate
 (1990)
In Collection


#2258
10*
Conjuring
Magician
Bookplate 
Bookplate-Magician/Collector George Daily-Drawn by Alan Wassilak-1990-v.FINE.

FRONT: Library shelves, poster, Houdini bust, wand, with text in center: "Ex Libris George Daily". Tiny text in lower right for artist: "Alan Wassilak '90".

BACK: Blank with minor paper adhesion and glue on top edge.

DATE: 1990
SIZE: 2 1/8 by 3 3/4 inches.
COND: All in otherwise very Fine, almost Mint condition.

Read It
No
Location
Magic Library (Home)
Condition
Mint
Owner
Bryan-Keith Taylor