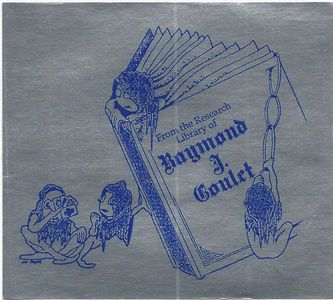 Raymond Goulet - Bookplate
In Collection


#2485
10*
Conjuring
Magician
Bookplate 
Bookplate-Raymond Goulet-Naked imps play with book-Blue ink on Silver-vFINE

FRONT: Four naked imps sit and play with a large book with title on front: "From the Research Library of Raymond J. Goulet". Printed in blue ink on silver paper.

BACK: Blank, with self adhesive liner paper still attached. Never used.

DATE: Circa 1970s-90s ???

SIZE: 3 3/4 by 3 3/8 inches.

COND: All in otherwise very Fine, almost Mint condition.

Read It
No
Location
Magic Library (Home)
Condition
Mint
Owner
Bryan-Keith Taylor
From Magicpedia, courtesy of Genii Magazine:

Ray Goulet (French: Goo-lay) , a life Long resident of Watertown, Massachusetts , a Korean War Veteran and licensed insurance and real estate broker, has been a professional performer for over 40 years. He is the owner of Mini-Museum of Magic and The Magic Art Book Co. He married his assistant Ann in 1949 and worked professionally as "The Raymond's". For five years he toured with an illusion show, after a stint with the U.S.O. under the stage name "Raymon and his Mystic Maids". He also performed a solo Mental Act as "Ray Raymond." In 1976, he opened his Magic Art Studio, a retail magic depot in a store on Spring Street in Watertown. He has been the producer and director for many years of New England's biggest annual show, the Magicale in Boston, sponsored by the S.A.M. He is an Honorary Member of the Society of American Magicians, Past Territorial Vice President of the International Brotherhood of Magicians, a founder and past president of IBM Ring 122 (Boston), a member of the Magic Collectors Association, a founder and past president of New England Magic Collectors Association, and a member of Magic Circle (Inner Magic Circle With Gold Star). Goulet serves on the Historian Committee, the SAM Hall Of Fame Board of Directors, the S.A.M. Psychic Committee and is Vice President of Milboume Christopher Foundation.

Awards and honors
Slydini Award
Elected into the Society of American Magicians Hall of Fame
Books

Published by "Ray Goulet's Magic Art Book Company"

The Cold Deck by Frank Thompson (1976)
The Thompson Pass by Frank Thompson (1981)
TWELVE HAVE DIED (by Ben Robinson)
JOHN HENRY ANDERSON-WIZARD OF THE NORTH (by Constance Pole Bayer)
THE FINE ART OF HOCUS POCUS (by John Booth)
KEYS TO MAGIC'S INNER CIRCLE (by John Booth)