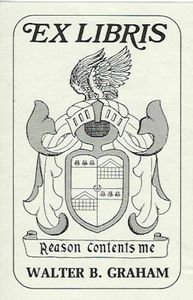 Walter B. Graham - Bookplate
In Collection


#2486
10*
Conjuring
Magician
Bookplate 
Bookplate-Walter B. Graham-Shield-Reason Contents Me


Bookplate for Walter B. Graham, with image of a Shield decoration, with text below, "Reason Contents Me".

BACK: Clean
DATE: Unknown
SIZE: 2 3/4 by 4 1/4 inches
COND: All in otherwise very Fine, almost Mint condition.

Read It
No
Location
Magic Library (Home)
Condition
Mint
Owner
Bryan-Keith Taylor
From Magicpedia, courtesy of Genii Magazine:

Walter B. Graham (1923-2018) was a printer and semi-professional magician performing comedy magic for over seven decades.
Graham enlisted in the Navy in November of 1942, only months after he enrolled at the University of Omaha. When Graham got out of the Navy in 1946, he went back to college for a year. He became an SAM member in 1942 attending the Omaha Magical Society SAM Assembly No. 7 along with Johnny Carson. After earning his BA in journalism in 1947, he got a staff job at a radio station, still continuing to do magic shows.

Graham was president of his own firm "Modern Litho Inc." which published reproductions of many old books. He sold the company in 1989. Graham produced the "Magic Collectors Reprint Series", a quarterly subscription series that offered reprints (via lithography) of scarce and desirable pieces of magic history. He is a longtime member of the Magic Collectors' Association.