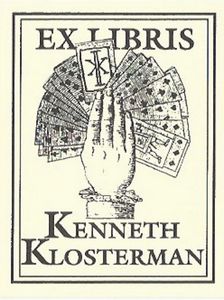 Kenneth Klosterman - Bookplate
In Collection


#2310
10*
Conjuring
Magician
Bookplate 
Book Plate-Kenneth Klosterman-Hand with fancy cuff holds card fan--vFINE-

Book Plate for magic collector Kenneth Klosterman.

FRONT: Image is from an 18th century magic book, with hand coming out of a lace cuff, holding a fan of cards. Text here, "EX LIBRIS / KENNETH / KLOSTERMAN".
BACK: Blank, never used, no glue remnant.
DATE: Unknown.
SIZE: 2 5/8 by 3 3/8 inches.
COND: All in otherwise Fine, almost Mint condition.

Read It
No
Location
Magic Library (Home)
Condition
Near Mint
Owner
Bryan-Keith Taylor
From Magicpedia, courtesty of Genii Magazine:
Ken Klosterman (b. 1933) lives near Cincinnati, Ohio. His collection, the "Salon De Magie", focuses upon apparatus, but also includes extensive collections of posters, books, and ephemera. The core of the collection is housed 83 feet beneath his home in an abandoned mine. More information may be found at The Salon de Magie.