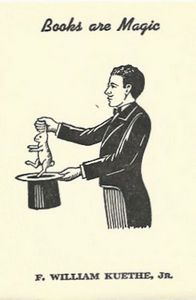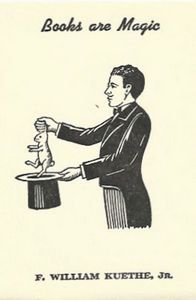 F. William Kuethe, Jr. - Bookplate
In Collection


#2311
10*
Conjuring
Magician
Bookplate 
Bookplate-F. William Kuethe, Jr.-"Books are Magic"-Magician with Rabbit-v.FINE-

FRONT: Bookplate with image of a magician taking a rabbit from a top hat. Text on top, "Books are Magic". Text below, "F. WILLIAM KUETHE, JR."

BACK: Blank back, never used, with "wet and paste" glue still in place.
DATE: Unknown. Circa 1980/90s ???
SIZE: 3 1/4 by 4 inches.
COND: All in otherwise very Fine, almost Mint condition.

Read It
No
Location
Magic Library (Home)
Condition
Mint
Owner
Bryan-Keith Taylor
From Magicpedia, Courtesy of Genii Magazine:

F. William Kuethe, Jr. (b. 1932) is a magic collector and author. Raised in Glen Burnie, Maryland and graduated from the Johns Hopkins University, he was the publisher and editor of The Magic Cauldron, Journal of Necromantic Numismatics and Ye Magical Bloodhound. He wrote the Magic Token "Illustrated Checklist" (October 1978) which was produced as Vol. 18, No. 5 of the TAMS Journal.