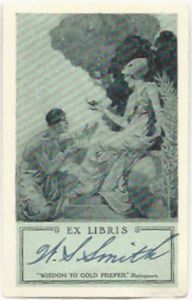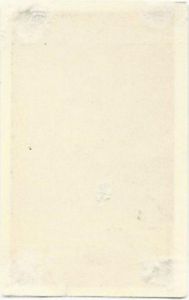 Williard S. Smith - Bookplate
 (1968)
In Collection


#2535
10*
Conjuring
Magician
Bookplate 
Bookplate - Williard S. Smith-Stock EX LIBRIS with his Signature

Bookplate for Williard S. Smith. This is a stock bookplate with EX LIBRIS below a classical image of a man kneeling before a seated woman. She holds a lit oil lamp in her hand. Block on bottom is signed:

"W. S. Smith"

This is from the collection of Parker Swan, who was a good friend of Williard Smith.

DATE: Circa 1968, which was date of book from which this was removed.
SIZE: 2 by 3 3/16 inches.
CONDITION: Bookplate was removed from a book, so back has minor abrasions. These have been stabilized with archival tissue tape. While back has this wear, front is in Fine condition.

Height x Width
3.2 x 2.0  inch

Read It
No
Location
Magic Library (Home)
Purchase Price
$7.50
Purchase Date
9/11/2014
Condition
Mint
Owner
Bryan-Keith Taylor
From Magicpedia, courtesy of Genii Magazine:

Rev. Willard S. Smith (1898-1981), a Baptist clergyman, was a member of Magiclub, American Society of Psychical Research, Magic Circle of London and served as the first National Chaplain of the S.A.M. when the position was created in 1943. He started doing magic in 1911, and gave his first public show in 1916. Attended Andover-Newton Theological School in 1936. Became a specialist in Rag pictures, wrote the column "Meaderings" for the Linking Ring and contributed to many other magic magazines. Smith was a veteran of both World War I, where he received the Purple Heart, and II (as a chaplain). He had a large collections of autographed photographs of magicians. The Society of American Assembly No. 16 (Worcester, Massachusetts), which he served as president in 1946-47, was named in his honor.