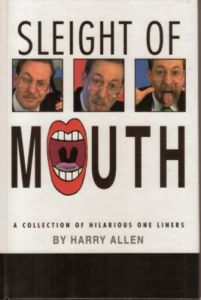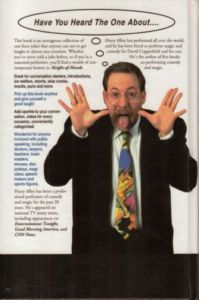 Sleight of Mouth - A Collection of Hilarious One Liners
L & L Publishing (1995)
In Collection


#3136
10*
Conjuring
Comedy
Hardcover 
USA 
eng
Allen, Harry: Sleight of Mouth
©1995 L & L Publishing
Hardcover, 177 pages

1995 First Edition "Sleight of Mouth: A Collection of Hilarious One Liners" by Harry Allen. Hardcover book is 177 pages long. Black and white illustrations throughout. Includes a variety of one liners to assist in one's act, including opening lines, quick responses for hecklers in the audience, introductions for your next trick, comedic fillers, one liners on marriage, assistants, and so much more.

Dewey
793.8
No. of Pages
177

Read It
No
Location
Magic Library (Home) Shelf A
Condition
Mint
Owner
Bryan-Keith Taylor
Harry Allen has been a professional performer of comedy and magic for the past 28 years. He's appeared on national TV many times, including appearances on Entertainment Tonight, Good Morning America, and CNN News. He has performed all over the world and he has been hired to perform magic and comedy for David Copperfield and his cast. He is the author of five books on performing comedy and magic.