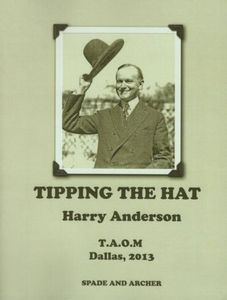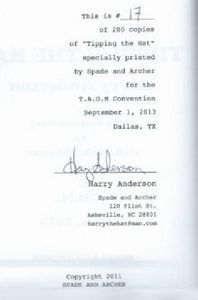 Harry Anderson's Tipping The Hat T.A.O.M. Edition Book - Limited Edition: This Is #17 Of 200 Signed & Numbered Copies
Spade & Archer (2013)
In Collection


#3159
10*
Conjuring
Magic tricks
Paperback 9-800096-526713
USA 
eng
Anderson,Harry: Harry Anderson's Tipping The Hat T.A.O.M. Edition Book
©2013 Spade & Archer
Paperback, 136 pages

Harry Anderson's Tipping The Hat T.A.O.M. Edition Book
Limited Edition: This Is #17 Of 200 Signed & Numbered Copies

Fresh off his appearance at the T.A.O.M. Convention in Dallas in September 2003, where he presented his award winning lecture (Magic Castle's 2013 Lecturer of the Year), Harry Anderson agreed to print some extra copies of his customized lecture notes which are closer to being a book. The book covers many of Harry's routines which include techniques, tips, banter, prop list, staging, music cues and even scripts.

Routines, techniques and stories discussed and dissected include: Wise Guy Monte, Practical Magic, Card Counting Explained, A Lady Chooses, A Deck Counted with Music and a Joke, Skippy, A Middle-Aged Straitjacket Escape, The Deck's Which, Stacking The Deck, The Brain Squares Off, Buffalo Bill's Cufflinks, Grant's Million Dollar Bill Mystery, Cufflinks Routine In Brief, A Drunkard's Square and more. You also get additional essays and stories by Harry Anderson, Jon Racherbaumer, and Jay Johnson.

As a special bonus the book includes a DVD of Harry Anderson's CBS television special Tricks Of His Trade. A 136-page, 8.5"x11" perfect bound book with many photographs. Published in 2013 by Spade & Archer. A limited edition of 200 autographed and numbered copies by Harry Anderson.

When Harry Anderson was booked to perform at the TAOM convention he was told that Tom Mullica was going to be the guest of honor. In his honor he customized his lecture book, "Tipping The Hat," to say TOM instead of TAOM and then hand inserted the letter "A." See the photos.

Since nobody got the joke, when he printed the rest of the 200 copies he corrected it to TAOM.

Dewey
793.8
Edition
Limited to 200 copies only
Extras
Autographed
No. of Pages
136

Read It
No
Location
Magic Library (Home) Shelf A
Condition
Very Fine
Owner
Bryan-Keith Taylor