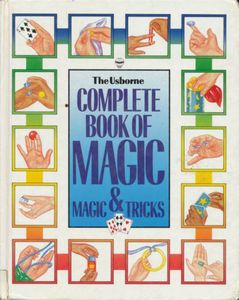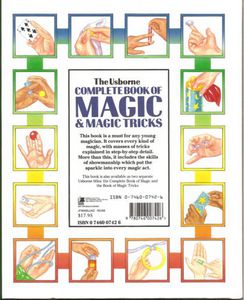 Complete Book Of Magic & Magic Tricks
E.D.C. Publishing (1992)
In Collection


#3371
10*
Conjuring
Magic tricks
Hardcover 0746007426
USA 
eng
Evans, Cheryl: Complete Book Of Magic & Magic Tricks
©1992 E.D.C. Publishing
Hardcover, 129 pages
ISBN-13: 9780746007426
ISBN-10: 0746007426

This book is a must for any young magician. It covers every kind of magic, with masses of tricks explained in step-by-step detail. More than this, it includes the skills of showmanship which put the sparkle into every magic act.

This book is also available as two separate Usborne titles: the Complete Book of Magic and the Book of Magic Tricks.

No. of Pages
129
Height x Width
10.2 x 8.0  inch

Read It
No
Location
Magic Library (Home) Shelf G
Condition
Near Mint
Owner
Bryan-Keith Taylor