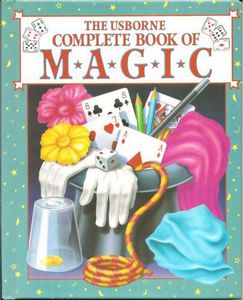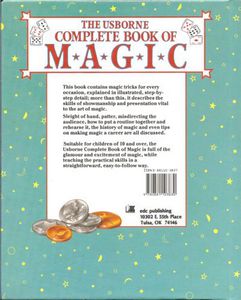 The Usborne Complete Book Of Magic - (Complete Book of Magic Series)
E.D.C. Publishing (1989)
In Collection


#3372
10*
Conjuring
Magic tricks
E.D.C. Publishing 0881103837
USA 
eng
The Usborne Complete Book Of Magic
©1989 E.D.C. Publishing
E.D.C. Publishing, 64 pages
ISBN-13: 9780881103830
ISBN-10: 0881103837

This book contains magic tricks for every occasions, explained in illustrated, step-by-step detail;more than this, it describes the skills of showmanship and presentation vital to the art of magic.

Sleight of hand, patter, misdirecting the audience, how to put a routine together and rehearse it, the history of magic and even tips on making magic a career are all discussed.

Suitable for children of 10 and over, the Usborne Complete Book of Magic is full of the glamour and excitement of magic, while teaching the practical skills in a straightforward, easy-to-follow way.

No. of Pages
64
Height x Width
10.0 x 8.2  inch

Read It
No
Location
Magic Library (Home) Shelf G
Condition
Near Mint
Owner
Bryan-Keith Taylor