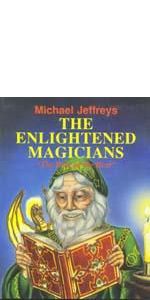 The Enlightened Magicians - The Best of the Best
Powerful Magic Publishing Company (1990)
In Collection


#3854
10*
Conjuring
Magic tricks - Biography
Hardcover 978-1878407023
USA 
eng
Jeffreys, Michael: The Enlightened Magicians
©1990 1st Edition, Powerful Magic Publishing Company
Hardcover, 272 pages
ISBN-10: 1878407023
ISBN-13: 978-1878407023

As described on the rear dustjacket: "In this exciting book, author/speaker Michael Jeffreys interviews 18 of the best magicians in the world. Each interview is packed full of solid, professionally tested advice, stories, comments, and criticisms. This is the 'real stuff!' If you use even 5 ideas from each performer, you will have 90 powerful pieces of information that you can use to achieve the financial and commercial success you desire! A total of over 740 years of magic experience contained in this book!" Some of the magicians interviewed include: Harry Blackstone, Jr., Lance Burton, Bruce Cervon, Brian Gills, Billy McComb, Siegfried & Roy, Ray Pierce, Chuck Jones, Jason Randal, and more! Features scattered black and white photographs. 271 pages long.

Read It
No
Location
Magic Library (Home) Shelf N
Condition
Near Mint
Owner
Bryan-Keith Taylor