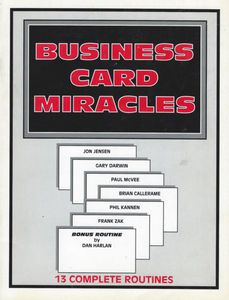 Business Card Miracles
Jon Jensen (1997)
In Collection


#3855
10*
Conjuring
Magic
Paperback 
USA 
eng
Jensen, Jon: Business Card Miracles
©1997 Jon Jensen
Softcover, saddle-stitched, 8.5x11", 32 pages

Comments: This is a relatively short book with a baker's dozen approaches to handing out your business card. Only a couple of routines utilize the "Out to Lunch" principle.

Contents:

ix Foreword (Gary Darwin): intro
1 Introduction: How to introduce business card magic, and some thanks
2 X Marks the Spot (Jon Jensen): spectator selects the only business card with an X on its back
4 Standing on Edge (Gary Darwin): a business card (could be borrowed) balances on the performer's hand
6 In the Money (Paul McVee): a business card appears from between two dollar bills
9 6 Card Prediction (Brian Callerame): Spectator selects the only printed business card, the others are all blank
11 Rising to the Top!: Two selections rise from the deck, only after the performers business card rises first! Uses the "Arne" or "Galdini" rising card gimmick
13 Shake It Out (Jon Jensen): The bottom of a business card is initialed, and the top is marked with lots of dots. The card is shaken and the dots have assembled themselves into your business card.
16 Pick a Number (Phil Kannen): The back of a business card shows the numbers 1-4, and the spectator is asked to name one of them. The card is turned over to show the prediction matches the selection. (doesn't always work)
18 Pick A Name Any Name (Phil Kannen): Spectator selects the magician's business card out of a clear bag with many others (forcing bag).
21 Torn and Restored Card #1 (Jon Jensen): Business card is torn and restored in a napkin, the missing torn corner matches that held by the spectator
24 Torn and Restored Card #2 (Jon Jensen): another approach, useful if behind the bar
26 A Bright Idea (Gary Darwin): combining a business card and the D'Lite gimmick
27 Card Finder (Frank Zak): Business card is used to find the selection and fails, but when turned over, has a miniature card that matches
30 Birthday Surprise (Dan Harlan): A business card stack with a birthday cake and candle is shown, colored, and removed from the stack. When the spectator blows on the card, it is turned over to show the candle has melted and burned out!


13 Incredible Routines by
•Jon Jensen
•Gary Darwin
•Paul McVee
•Brian Callerame
•Phil Kannen
•Frank Zak
•and a bonus routine by Dan Harlan!

Business cards can make a great first impression. It will make a lasting impression if the recipient keeps it and shows it to all his friends! What Jon Jensen has done is collected a whole mess of original business card effects from working professionals so that you can actually entertain people as you give out your card!

Read It
No
Location
Magic Library (Home)
Condition
Very Fine
Owner
Bryan-Keith Taylor