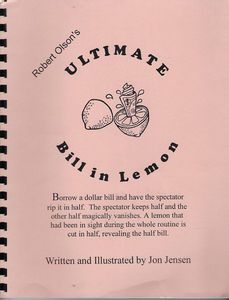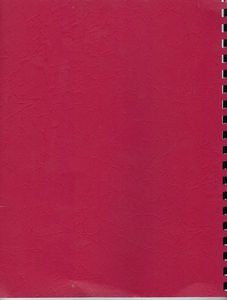 Robert Olson's Ultimate Bill in Lemon
The MasterMind Group (1998)
In Collection


#3856
10*
Conjuring
Magic tricks
Comb-Bound 
United States of America 
eng
Jensen, Jon & Robert Olson: Robert Olson's Ultimate Bill In Lemon
©1998 Jon Jensen, The MasterMind Group
Softcover, comb-bound, 8.5x11", 18 pages Jenson & Olson: Ultimate Bill in Lemon
Image courtesy eBay seller MJBBrowmar
Comments:

Contents:

2 Bill in Lemon
2 - Effect
2 - Secret
3 - Setup
5 - Performance
13 Coin in Apple
14 - Effect
14 - Secret
15 - Performance


A dollar bill is borrowed from a spectator and ripped in half. The spectator is given half and the other half is burned. The half you burned, then magically appears, restored, in a lemon. Bob Olson's fine routine is explained in minute detail in the manuscript.

Read It
Yes
Location
Magic Library (Home)
Condition
Near Mint
Owner
Bryan-Keith Taylor