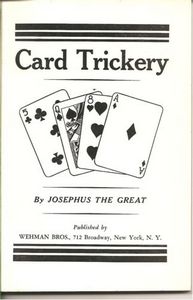 Card Trickery - Tricks and Deceptions with Playing Cards
Wehman Brothers (1974)
In Collection


#3872
10*
Conjuring
Card tricks
Paperback 
USA 
eng
Josephus the Great: Card Trickery
©1974 Wehman Brothers
Softcover, 130 pages

Tricks with Cards Performed by Skillful Manipulation and Sleight of Hand; by the Aid of Memory,Mental Calculation, and the Peculiar Arrangement of the Cards; by the Aid of Confederacy and Sheer Audacity.

Book Pirated Copy Professor Hoffmann's TRICKS WITH CARDS

A cheap pulp edition of Hoffmann's Tricks With Cards published by Wehman Bros., New York, without credit, and claiming the author to be Josephus the Great. No date, in white wraps, illustrated with engravings, and containing 130 pages.

Read It
No
Location
Magic Library (Home) Shelf N
Condition
Mint
Owner
Bryan-Keith Taylor