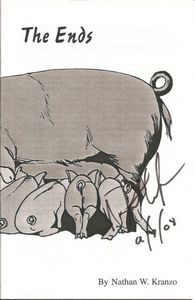 The Ends
Nathan W. Kranzo (2001)
In Collection


#3925
10*
Conjuring
Magic tricks
Lecture Notes 
USA 
eng
Kranzo, Nathan W.: The Ends
©2001 Nathan Kranzo, Radio Free Atlantis Productions
Softcover, saddle-stitched, 5.5x8.5"

Comments: 9 effects for stand up, walk around, restaurant performers. Available as an eBook from Nathan Kranzo.
Contents (from web description, numbers are not page numbers):

1 The Big Push: cards lose their color
2 Check Please: check to money
3 Cap Pocket or #@%$# Revisited: signed card to pen clip
4 Breath Freshener Gag: breath mints to breath spray
5 Hot Coin: borrowed coin melts and bends
6 Low Tide: coin production
7 Coins Thru Pocket: Three silver dollars
8 Too Much Coffee: stirrer continues to stir coffee, and stops on command
9 Tornado Straw: straw through bottom of cup and cup restored

Extras
Autographed
No. of Pages
14

Read It
No
Location
Magic Library (Home) Shelf O
Condition
Mint
Owner
Bryan-Keith Taylor
Who is Nathan Kranzo?

A Comedian.

A Magician.

A Mind Reader.




An Entertainer.

Nathan Kranzo helps corporate event planners make their meetings and parties unforgettable and uproariously fun with unique programs consisting of magic, mind reading, comedy, and audience participation.

For 16 years Nathan has helped hundreds of private organizations and companies including General Motors, Sam's Club, and Ameritech make their events a smashing success!

Nathan also teaches other entertainers from around the world how to be better performers. Nathan has performed and lectured all over the United States as well as Europe and Asia and has been a featured performer several times at the world famous Magic Castle in Hollywood, California. Most recently Nathan was a consultant for Penn and Teller's NBC special.

Whether he is apparently reading someone's mind, predicting events before they occur, or astounding his audience with some other form of magic, Nathan's goal is to make you look good by presenting a show everyone will love and remember for a long time.