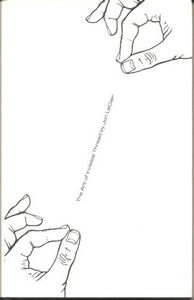 The Art Of Invisible Thread
Agency of World Entertainment (1997)
In Collection


#3955
10*
Conjuring
Magic tricks
Hardcover 
USA 
eng
LeClair, Jon: The Art Of Invisible Thread
©1997 Agency of World Entertainment
Hardcover, w/dustjacket, 160 pages

The Art Of Invisible Thread

Original 1997 first edition in excellent condition.
This out of print book has been highly sought after by those who work with invisible thread. A real encyclopedia on the subject with a revolutionary hook-up. This hardbound book will take you through each and every phase of invisible thread work from the stripping of the thread to the effects. Haunted Pack, Rising Cards, Floating Bill, Knife Locator, Animated Matchbox, Helicopter Card, and Animated Matchstick. This is, without a doubt, the best work out there on invisible thread work. Beginners, this is where you will really learn to use this stuff. This book is in very good condition with original dustjacket with no rips or tears. Lacking only the thread and putty which originally came with the book. Highly recommended.

This is considered the definitive work on magic with invisible thread. If you have ever wanted to perform astounding magic where objects seem to move and float on their own this is your opportunity. Based on Jon LeClair's best-selling book "The Art of Invisible Thread," this program takes you on a candid outing where LeClair performs live for startled spectators in a restaurant. You are then taught how to perform everything. LeClair's techniques can be used at virtually anytime and in any situation -- they are the most practical methods for using invisible thread ever developed.

Read It
No
Location
Magic Library (Home) Shelf O
Condition
Mint
Owner
Bryan-Keith Taylor