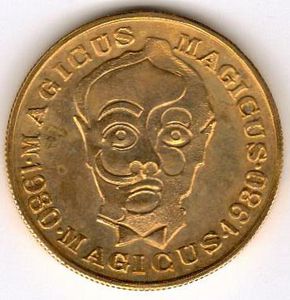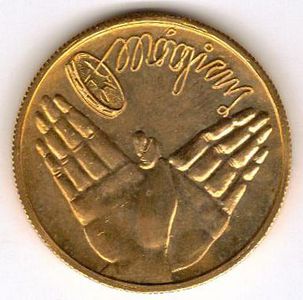 MAGICUS -- MT233.200 - (Gold Colored)
 (1980)
In Collection


#462
10*
Conjuring
Magic coin / token
Token / Coin 
MAGICUS -- MT233.200
(Gold Colored)

LOCATION: Spain
DATE: 1980
OBV: "MAGICUS MAGICUS/ 1980 MAGICUS 1980", around mustachioed caricature head or magician.
REV: "MAGICUS", formed by coil coming from tambourine, over two hands with thumbs crossed.
COMPOSITION: AnCp, ChPl, Cp, Gt, SiPl, R4 30-R

Five versions have also been described as, chrome,
silver plated, gold plated, copper and copper washed.

Read It
No
Location
Magic Library (Home)
Condition
Mint
Owner
Bryan-Keith Taylor