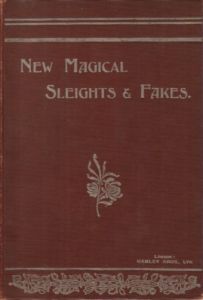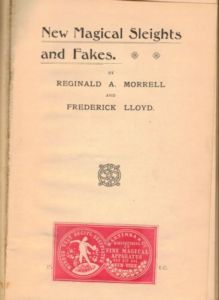 New Magical Sleights And Fakes
Hamley Bros., Ltd. (1906)
In Collection


#4155
10*
Conjuring
Magic tricks
Hardcover 
Great Britain 
eng
Morrell, Reginald A. & Frederick Lloyd: New Magical Sleights & Fakes
©1906 Hamley Bros., Ltd, London
Hardcover, no dj, 50 pages
Also published by Martinka & Co., NY

Comments: illustrated with black and white photographs.

Contents (from book):
3 Preface

5 Chapter 1 - Tricks With Thimbles And Coins
5 Thimbles
5 An Improved Thumb-Palm
8 The Melting Thimbles
9 Tricks With Coins: a coin vanish
10 A New Handkerchief Fold for a Coin
12 A Matchbox Change: Half-Crown changes to penny in a matchbox
13 The Rising Coin: in a glass of water

15 Chapter 2 - Tricks With Cards
15 Changing a Card
15 - Method 1
18 - Method 2
19 - Method 3
19 - Method 4 To Change a Card by Tapping It
21 The Card of Mesmer

23 Chapter 3 - Miscellaneous Mechanical Tricks
23 The Magical Salad: examined bowl is immediately filled with flowers
24 An Effective Rope Release
25 The Simultaneous Production of Three Billiard Balls at the Finger Tips: uses two shells
28 The Appearing, Travelling Chameleon Ball: board explained
30 - First Effect the Sudden Appearance of the Ball
31 - The Travelling Ball
32 - The Chameleon Travelling Ball
32 The Spiritualistic Blackboard: used in conjunction with the Magic Dial effect
37 A New Black-Art Illusion: assistant levitation and vanish

39 Chapter 4 - Modern Telepathy
39 Introduction: the general method explained
41 No. 1: blindfolded assistant determine total of numbers on a board
41 No. 2: a mathematical calculation
42 No. 3: another
43 No. 4: another mathematical calculation determined by the assistant before the spectator can perform it
44 No. 5: Assistant determines calculation on numbers on the board
44 No. 6: to name the figure crossed out of an answer obtained in a subtraction
46 No. 7: to obtain an answer to a subtraction sum long before the spectator



--------------------------------------------

Book NEW MAGICAL SLEIGHTS and FAKES 1906 1st Edition

Written by Reginald A. Morrell and Frederick Lloyd

Published by Hamley Brothers Ltd., London in 1906 1st edition. In maroon cloth, illustrated with photographs, and containing 50 pages. This book contains a chapter title Modern Telepathy as well as Billiard Ball work.

A Martinka dealer label is on the title page. Some light rubbing on the cover extremities, otherwise a clean, tight, Fine copy.

Read It
No
Location
Magic Library (Home) Shelf R
Condition
Very Fine
Owner
Bryan-Keith Taylor