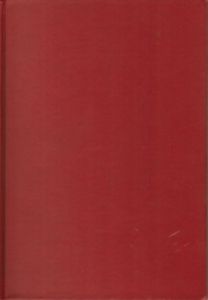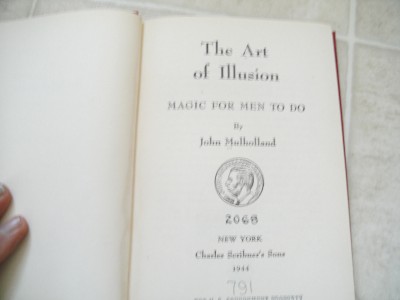 The Art of Illusion Magic for Men to Do
Charles Scribner's Sons (1944)
In Collection


#4158
10*
Conjuring
Magic tricks
Hardcover 
USA 
eng
Mulholland, John: The Art of Illusion Magic for Men to Do
©1944 John Mulholland; Charles Scribner's Sons, NY
Hardcover, 142 pages

The Art of Illusion Magic for Men to Do by John Mulholland. NY Charles Scribner's Sons 1944. Ex library book, pocket and stamps. Book in good condition, some pencil lines, library stamp on one page. 2 pages have small edge tear. Some edgewear to cover.

Index sample:

The Freely Selected Card
Rings and Strings
Magic Spelling
By the Sense of Touch
Beelzebub's Letter
The flight of a coin
The prophetic Pennies
142 pages, red cover, no dj

Read It
No
Location
Magic Library (Home) Shelf R
Condition
Good
Owner
Bryan-Keith Taylor
John Mulholland (1898-1970)

John Muhlholland was born in 1898 in Chicago, and was first inspired to become a magician by seeing a performance of Harry Kellar's. He moved to Manhattan as a young man with his mother. An accomplished performer by his teenage years, Mulholland went on to an impressive career as a professional magician and authority on the subject. In the 1930s, he assumed editorship of The Sphinx, at that time the world's largest and most respected magic magazine. Mulholland had an uparalleled collection of magic memorabilia and apparatus that is now largely owned by David Copperfield. Inventor of the Mulholland Box. A one-time consultant to the article on conjuring in the Encyclopedia Britannica, he is credited with helping to make magic intellectually respectable, and wrote numerous books on the subject.

Among his written works are Quicker than the Eye (1932), Story of Magic (1935), The Art of Illusion (1944), and Book of Magic (1963).