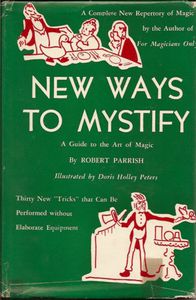 New Ways to Mystify - Guide to the Art of Magic
Bernard Ackerman, Inc. (1945)
In Collection


#4262
10*
Conjuring
Magic tricks
Hardcover 
USA 
eng
Parrish, Robert: New Ways To Mystify
©1945 Bernard Ackerman, Inc., NY
Hardcover, 124 pages

Comments (Lybrary.com): "...Mr. Parrish has presented thirty "tricks" that can be performed without elaborate equipment, and with no more skill than the average person can muster. It's all in practice and in knowing how to distract the audience, Mr. Parrish says, and he demonstrates in such a simple manner that anyone, young or old, can master these feats of magic...Dozens of simple diagrams, as well as clever chapter head and tail pieces, have again been provided by Doris Holley Peters."

Contents:
6 Chapter One: And The Pursuit Of Magic

9 Chapter Two: How To Be Deceptive
9 The Egg Bag

3 Chapter Three: The Magic Counterpane
13 A Conjurer's Cut
15 Perpetual Motion
16 A Toss-Up Vanish
17 The Burned And Restored Sheet

20 Chapter Four: The Magic Tea Table
20 Invisible Passage I—quarter And Lemon
23 Psychic Tea Leaves

26 Chapter Five: Needlework Magic
26 Knitting Made Easy
28 The Unraveling Trick
29 The Needle Threading Trick

32 Chapter Six: Take A Little Magic After Dinner
32 Bewitched Sugar
33 Homing Salt
35 Invisible Passage Ii—teacups And Sugar Cubes
37 How To Produce A Lighted Cigarette

39 Chapter Seven: Magic For A Night Out
39 The Jumping Card And The Flying Card
41 Leap Frog
42 Changing Cards
44 The Torn Card Vanished And Restored
44 The Vanish
45 The Restoration

49 Chapter Eight: Bring Magic To Your Week Ends
49 Mental Magic Or Telepathy Made Easy
50 The Hostess Vanishes
52 How To Produce The Family Pet From A Hat
54 The Magic Candy Box

56 Chapter Nine: The Magician On The Brass Rail Road
56 The Reproducing Olive
58 The Magic Key Rings
59 The Hypnotized Cigarette
60 The Trouble With Coins
61 How To Shake Your Lunch With Ease
62 The Torn And Restored Newspaper

65 Chapter Ten: The Show




A Complete New Repertory of Magic by the Author of For Magicians Only.
A Guide to the Art of Magic, Thirty New "Tricks" that Can Be Performed without Elaborate Equipment.

Read It
No
Location
Magic Library (Home) Shelf S
Condition
Very Fine
Owner
Bryan-Keith Taylor