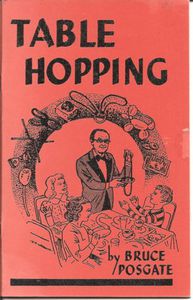 Table Hopping
Haines' House of Cards (1974)
In Collection


#4286
10*
Conjuring
Magic tricks
Softcover 
USA 
eng
Posgate, Bruce: Table Hopping
©1974 Haines' House of Cards, OH
Softcover, saddle-stitched, 5.5x8.5", 54 pages

Comments:

Contents:

3 Foreword (Sid Lorraine)
5 Introduction (Bruce Posgate)
7 Chapter 1 Handling Staff
9 Chapter 2 Timing and Other Things
10 Getting Organized
11 Gimme Another One!
13 Chapter 3 Making the Approach
15 Interesting the Adults
18 Chapter 4 Tips to Take or Not to Take
20 Chapter 5 Tricks for Table Hopping
20 Do's and Dont's
22 Approaches to Effects: some workings not explained, just the approach
22 - Linking Paper Clips: approach
22 - Bow Tie from Dollar Bill: general approach
23 - Loop La-La: commercial color changing nylon loop
24 - Bangle 'n Beads: one move detailed
25 - Knot in the Pocket: a knot appears in a string of beads and is detached
26 - Fun With a Cigarette: using a vanisher
28 - Moon Rock (Sid Lorraine): commercial rock to cheese effect
29 - Soda Straw Separation: one straw penetrates another
32 Chapter 6 Working With Balloons
39 Chapter 7 More Balloon Working Ideas
40 Burst Balloons
42 More Silent Rattles for the Baby: simple construction
42 Play Safe!
43 More Amusing Nonsense
46 Odds and Ends
50 Conclusion: getting work
53 Credits, Acknowledgements and Thanks

Read It
No
Location
Magic Library (Home) Shelf S
Condition
Near Mint
Owner
Bryan-Keith Taylor
Posgate, Bruce
(1900 - 1990)
Canadian magician Bruce Posgate was not so much an inventor of magic as an originator of magic routines using other magician's inventions. He also wrote the instructions for many magic tricks sold by dealers.
Bruce remembered seeing Oswald Williams perform a Magic Laundry effect at the Egyptian Hall in London. In the August 1951 issue of The Linking Ring (Volume 31 - No. 6) he wrote up his routine for "The Magic Laundry" which inspired another originator of magic, Lewis J. Thomas, to devise the "Chinese Washing Machine" manufactured later by Supreme.*
Wrote: Table Hopping (1974), Dove Pan-Orama, Necklace Trickery, It's Not What You Do (Lecture Notes), Kid Show Showmanship (1961),
*Researched by Andrew Pinnard.