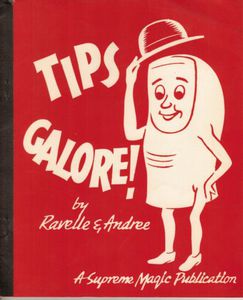 Tips Galore!
Supreme Magic Co (1965)
In Collection


#4317
10*
Conjuring
Magic tricks
Softcover 
Great Britain 
eng
Ravelle & Andree: TIPS GALORE!
©1965 Supreme Magic Co.
Softcover, stapled manuscript, 8.5x11", 17 pages

TIPS GALORE!
by Ravelle & Andree
Bideford, Devon, UK: The Supreme Magic Co., [nd]. Stapled mimeographed text in thin card covers with cloth spine. 17 pages with some line illustrations, measures about 10 x 8 inches. A booklet about tricks with a thumb tip.

Very good over all vintage condition with bumped upper front corner. No marks, NOT EX-LIBRARY!

Magicians have used modified thumb tips to accomplish different effects.

A thumb tip with a slit in the tip can be used like a dye tube to apparently change the color of a silk. In this case, a colored silk is preloaded into the tip. The magician steals the tip into the left fist, then pokes a white silk into the tip while alternately pulling the colored silk out from the other end.

A thumb tip with a small suction cup attached to the tip can be used to create the illusion of floating small objects. In this effect, the tip remains on the magician's thumb while the suction cup is affixed to a small object with a smooth surface (such as a light bulb or empty aluminum can), effectively attaching the object to the thumb. With the fingers spread, the thumb moves the object in such a way that it appears to be floating independently of the hands.

A thumb tip can be prepared with a wick protruding slightly from the end, soaked with lighter fluid. This enables the magician to "pick up" a flame, apparently with his or her fingers.

Mentalists may use a thumb tip with a piece of pencil lead at the end which can be used to secretly write on a piece of paper, similar to a swami gimmick.

A thumb tip embedded with magnets can be utilized in performance to effect a magnetic compass to move.

Read It
No
Location
Magic Library (Home) Shelf S
Condition
Very Fine
Owner
Bryan-Keith Taylor