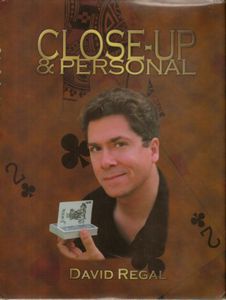 Close-up And Personal
Hermetic Press, Inc. (1999)
In Collection


#4322
10*
Conjuring
Magic tricks
Hardcover 
USA 
eng
Regal, David: Close Up & Personal
©1999 Published by Hermetic Press, Inc. 1st Edition
Hardcover, 264 pages
ISBN-13: 9780945296256
ISBN-10: 0945296258

Comments (Andrew Pinard): Some items in this book have been published in different form in the periodicals Apocalypse and Genii. Manufacturing rights for all effects in this book, with the exception of "Pasteboard Massacre", are reserved by David Regal.

Contents:

vii Preface—Ken Krenzel
viii Introduction—Max Maven
x Foreword

1 Cards
3 All's Fair
6 Leap of Faith
10 Commercial Travel
18 Clandestine Collections
22 Inclination
24 The Luck Test
26 Romeo & Juliet
30 Over & Out
33 Isolated Force
35 Ten-second Poker
37 The Wrong Ones
43 Sending It Through
46 Hailing the Great Discrepancy
47 Clean Cut
49 For Marlo
52 Primate
54 Swindle Transpo
57 In Praise of the Double Lift
57 The Oddity
58 John Hancock
60 The Joker Works Overtime
63 Mental Transpo
65 Neither Fish nor Foul
67 There & Back
73 Got a Light?
77 Business Relocation
80 Ace in the Hole
83 Fool 'em if You Got 'em
86 Spot Remover
88 Letter Perfect
90 My Best Friend

95 Cards &
97 The Half Deal
99 The Script
100 Pointing the Way
105 Mystic Poker
108 Lies
111 The Crystal Ball
114 This is My Stop
116 Unlimited Edition
120 I've Got Your Number
123 Nailed!
126 John Lovick's The Reparation
133 Pipped Off

137 $
139 Clearly Impossible (Sans Lap)
145 Clink
147 Four Plus Four
150 Poor Man's Wallet
153 Found $
155 4½
158 3½
161 2½
163 The Great Wall of China
165 Optical Coin Climax

167 Assemblies
169 Down Under Assembly
172 Logical Assembly
174 Anywhere Assembly
177 Price's Stealth Switch
178 Streamlined Assembly (Minus One)
182 A Short Leap
183 True Blue
187 Blues Progression

195 Mental
197 Gambit in a Box
199 Penny for Your Thoughts
201 The Fifty-second Card
203 All Strung Out
208 A Strong Feeling
211 An Occasional Miracle
215 The Man with the X-ray Eyes
218 Sweet Tooth
220 Countdown
224 Perchance to Dream

231 Gaffed Decks
232 Diamonds in the Rough
233 The Déjà Vu Deck
236 Triple Vision
239 Photo Finish
242 Pasteboard Massacre
247 Flight of Fancy
250 The Opener

253 Thanks...
254 In Closing...





Close-up And Personal by David Regal

"This stuff's so clever it's criminal!"

These words were uttered by Max Maven shortly after reading David Regal's Close-Up & Personal. Fortunately, Regal has managed to escape prosecution, due not only to his inventiveness, wit and originality in magic, but also to his success as a comedy performer and television writer. David's magic twelve years ago so impressed Harry Lorayne, he wrote and published David's first book-Star Quality: The Magic of David Regal. Lorayne's title proved prophetic, and after seeing the contents of Close-Up & Personal, his comment was, "He'll fool the hell out of you."

David Regal is a popular performer at The Magic Castle, just one of the locations where he audience-honed the material presented in this volume. Close-Up & Personal contains, in the words of Ken Krenzel, "An abundance of novel, offbeat gems." Close-Up & Personal contains seventy-two of David's best performance pieces, described with care and in detail, accompanied by hundreds of photographs. If you seek close-up trickery that surprises, entertains and amazes both the public and jaded peers alike, you must read Close-Up & Personal!

Pages 264 - Hardcover

This hardcover book (269 pages, photo-illustrated by Leslie Davis-Regal), is currently in its third printing, and filled with powerful close-up magic, including the entire act David did at The Magic Castle in the 90s. Published in 1999, it was one of the best-reviewed (and best-selling) books of that year.

Read It
No
Location
Magic Library (Home) Shelf S
Condition
Mint
Owner
Bryan-Keith Taylor