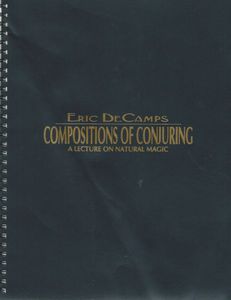 Compositions Of Conjuring - A Lecture On Natural Magic
Eric DeCamps (2001)
In Collection


#4323
10*
Conjuring
Magic tricks
Spiral Bound 
USA 
English
Regal, David: Compositions Of Conjuring
©2001, Eric DeCamps
Spiral Bound r, 52pages

Regal, David: Eric DeCamps Compositions of Conjuring
A Lecture on Natural Magic
©2001 Eric DeCamps
Softcover, spiral-bound, 8.5x11", 51 pages

Comments:
Contents:

1 The Ends of my Rope
4 Slip Away Coins: 3-Fly type routine
9 Four Coins in the Counting
12 Okito's Box
18 Three Shells & a Pea
27 Two Cups are Better than One: cups and balls routine with two cups
37 Stogies: Leipzig Cigars
46 Cards of a Feather: Collector's card plot
51 Bibliography



-------------------------------------------------------------

Compositions of Conjuring: A Lecture on Natural Magic by Eric DeCamps

52 pages, black linen cover with gold foil stamp, Wire-O bound, written by David Regal, 8 1/2 x 11, 8 routines:
Ends of My Rope,
Slip Away Coins (think 3-Fly-esque),
Four coins in the Counting, Okito's Box,
3 Shells & a Pea,
Two Cup routine,
Stogies (think Leipzig Cigars),
Cards of A Feather… (Collector's-type plot).

"Eric is a magical alchemist, taking in raw materials, adding original ingredients and distilling it all into magical gold. He will often labor for months, years on a single routine. The effects that follow are a sampling of Eric's brand of magic: Simple, pure, stunning and most importantly entertaining."—David Regal.

Outstanding effects explained in depth.Great photos!

No. of Pages
52
Height x Width
11.0 x 8.5  inch
Original Publication Year
2001

Read It
No
Location
Home Magic Library
Condition
Near Mint
Owner
Bryan-Keith Taylor