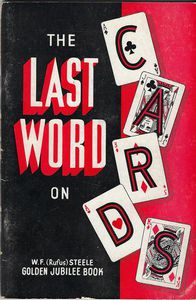 The Last Word on Cards
Golden Jubilee Book (1952)
In Collection


#4508
10*
Magic Card
Softcover, saddle-stitched 
USA 
eng
Steele, W.F. (Rufus): The Last Word on Cards
©1952 Golden Jubilee Book
Softcover, saddle-stitched, 6x9", 63 pages

Comments (Joe Pecore): Also available as an e-book from Lybrary.com

Contents:

6 Affinity (Ed Marlo)
7 The Halo (Eddie Joseph)
8 The Great (Rufus Steele)
9 Hocus Pocus, Miss Jones
10 Hocus Soapus (Al Leech)
10 Time Card (John Snyder)
11 Red and Blue (Improved) (Bob Lotz)
13 A Real Prediction
14 Spell Anything (Bill Simon)
15 Queens
17 Think of Any Card
18 Wild Deuces (Al Leech)
20 Accordion Reverse (Robert Parrish)
21 Surprise Quickie (Don Alan)
22 "U-Find-Our-Cards" (Mike Kanter)
23 Autographic Minds.. (Lu Brent)
24 Not There (Stuart Judah)
26 An Impossible Transposition (Clarke Crandall)
28 The Zodiac Card Miracle (Eddie Fields)
30 Cupid
32 They Tell You Nothing (Rufus Steele)
33 You Tell Them Everything (Rufus Steele)
34 Tell and Spell (Steele-Parrish)
36 The Weigle Version (Oscar Weigle)
37 Double Duty (Oscar Weigle)
38 Back in Place
39 "Dammit" (Audley Walsh)
40 Memorizing the Deck
40 Get Set, Stop! (Al Leech)
41 Which Is Which? (John Platt)
42 Name and Place (Audley Walsh)
43 Right Hand, Left Hand
44 A Prediction Supreme (Lu Brent)
45 A Location Supreme (Mike Kanter)
46 The Magic Card Square (Allerton-Parrish)
47 The Garter Trick
48 Four Four Four (Marty Williams)
48 Number Seven
49 Easy Does It (Al Leech)
50 The Buried Card
51 On the Phone (Schoke-Allerton)
52 Shuffle Location
52 The Slap Trick
53 Moe and Sam
54 The Descending Cards (AI Leech)
55 Simplicity Discovery (Bob Nelson)
56 Call Your Hand (Royal H. Brin, Jr.)
57 Five Card Baffle (Bob Hummer)
58 The Baffle Follow-Up (Rufus Steele)
59 Triple Thought (Jacob Daley)
60 The Do Nothing Miracle
62 A Lecture with a Cold Deck (Rufus Steele)

Read It
No
Location
Magic Library (Home)
Condition
Very Fine
Owner
Bryan-Keith Taylor
Rufus Steele
(1881 - 9th September 1955)

1881-1955

Born in Janesville, WI, William F. Steele grew up in New England and attended the Massachusetts Institute of Technology to become an electrical engineer. His interest in magic came from a meeting of Dr. James William Elliott.

Rufus never married, and spent most of his time active in the magic community and the I.B.M. In later years he was a professional gambler and became a well known card expert. The last years of his life, he lived out at the Wacker Hotel where Rufus, Theo Bamberg and other magicians have made their home, often giving card lessons

Rufus wrote several books on card magic:

Card Tricks You Will Do (1928)
Card Tricks That are Easy To Learn (1935)
50 Tricks You Can Do, You Will Do, Easy to Do (1946)
52 Amazing Card Tricks (1949)
Paul Rosini's Magical Gems (1950)
The Last Word On Cards (1952)


Rufus was his nickname. His real first names were William Francis. He was born in Janesville, Wisconsin. By his own dubious accounts, a pro gambler, soldier (WW I), engineer, journalist, hotel clerk. Inspired and learned magic c1900 by private demo from Dr J.W. Elliott. Amateur magician. Voted into the New York "Inner Circle" by 1940. Died in Chicago.