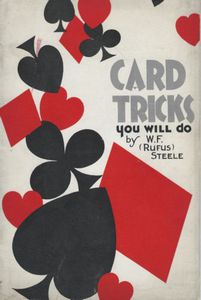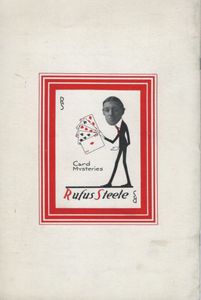 Card Tricks You Will Do
Grove City Publishing Co. (1928)
In Collection


#4507
10*
Magic Card
Hardcover 
USA 
English
Steele, W.F. (Rufus): Card Tricks You Will Do
©1928 W.F. "Rufus" Steele
Softcover, saddle-stitched, 5.5x8.5", 26 pages plus ads

Comments: Edited by Frank Smith.

Contents (from book):

2 Foreword
3 Your Opening
4 Knockout Counting Trick
5 Satan's Message (George Pierce)
6 The Clock Trick
7 The Card in the Pocket
7 Good Simple Card Trick
8 Dual Detection
9 Two Souls But With a Single Thought
10 Mental Telepathy
11 Pretty Effect
12 Discovered Number
13 The Guesser
14 Counting Trick
15 The Wizard Spelling Master
16 A Prediction
17 Clock Trick No. 2
17 The Whispering Joker
18 Sympathetic Sympathy
19 The Master Card Location
19 Max Holden's Master Card
20 Sympathetic Connection
20 Jack Jack Jack
21 Stop Trick
21 Coincidence
22 Mind Reading by Telephone
22 - Bowman's System for Mind Reading By Telephone
23 Three Mystic Numbers
24 The Circle of Cards
25 The One-Eyed King
26 Mind Reading
26 Mathematical Trick

27 Ad: for Ohio Magic Co. in Grove City
28 Ad: for book Know the Art of Successful Bidding by Steele


----------------------------------------------------------------------

Card Tricks You Will Do, August 1st, 1928 1st edition. Pictorial wraps, 26 pages. by W. F. (Rufus) Steele
A collection of engaging and entertaining card effects.
No. of pages 26

Author(s): W. F. (Rufus) Steele
Date: 1928

Publisher: Grove City Publishing Co.
Card Tricks You Will Do, August 1st, 1928 1st edition. Pictorial wraps, 26 pages. A Near Fine copy.

Product Details

W.F. (Rufus) Steele teaches you a collection of interesting and engaging plots in magic in the form of Card Tricks You Will Do. The card effects presented are simple and direct and can be performed with ease. Included are some great stories that you can tell that go along well with the effects.

Read It
No
Location
Magic Library (Home) Shelf Top
Condition
Very Fine
Owner
Bryan-Keith Taylor
Rufus Steele
(1881 - 9th September 1955)

1881-1955

Born in Janesville, WI, William F. Steele grew up in New England and attended the Massachusetts Institute of Technology to become an electrical engineer. His interest in magic came from a meeting of Dr. James William Elliott.

Rufus never married, and spent most of his time active in the magic community and the I.B.M. In later years he was a professional gambler and became a well known card expert. The last years of his life, he lived out at the Wacker Hotel where Rufus, Theo Bamberg and other magicians have made their home, often giving card lessons

Rufus wrote several books on card magic:

Card Tricks You Will Do (1928)
Card Tricks That are Easy To Learn (1935)
50 Tricks You Can Do, You Will Do, Easy to Do (1946)
52 Amazing Card Tricks (1949)
Paul Rosini's Magical Gems (1950)
The Last Word On Cards (1952)


Rufus was his nickname. His real first names were William Francis. He was born in Janesville, Wisconsin. By his own dubious accounts, a pro gambler, soldier (WW I), engineer, journalist, hotel clerk. Inspired and learned magic c1900 by private demo from Dr J.W. Elliott. Amateur magician. Voted into the New York "Inner Circle" by 1940. Died in Chicago.