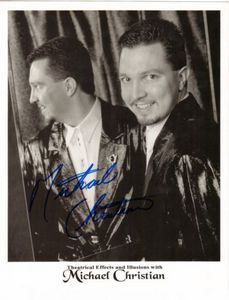 Michael Christian
In Collection


#985
10*
Conjuring
Magician
Photograph 
Here is a excellent 8 x 10 studio promo photo of Michael Christian.

Read It
No
Location
Magic Library (Home)
Condition
Near Mint
Owner
Bryan-Keith Taylor
Michael Christian

The award-winning performance of Michael Christian communicates an inspirational and dramatic presentation using theatrical effects and illusions as a visual tool.

From the very moment he appears on stage, Michael delights and amazes all with his classy, yet comfortable personality. Making clear that everything performed is simply an optical effect and not associated with the supernatural, he invites members of the audience to become involved as he plucks a rose from the air, levitates an audience member or walks through a solid glass mirror.

Near the end of the program Michael Christian shares his own personal testimony while uniquely presenting the Gospel in a way that many people have stated is one of the clearest they have ever heard.