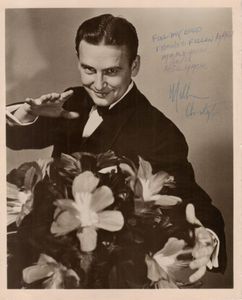 Milbourne Christopher
In Collection


#986
10*
Conjuring
Magician
Photograph 
Milbourne Christopher - Autographed Photograph

Magician Milbourne Christopher is famous for the first MAGIC SPECTACULAR on prime time TV, in addition to many TV shows. He also performed in 68 countries and authored or edited 23 books. One of magic's great performers, Christopher was renowned for his collection of magic memorabilia.
Genuine 8 x 10 silver gelatin photographic print on single weight fiber-based glossy paper. A few minor surface creases, but great appearance overall. Signed in blue ballpoint pen: "For my good friend and fellow Magi, Mary Ann and her magic--Milbourne Christopher. (Using his distinctive "Milb" with trailing swirl).

Extras
Autographed, Inscribed

Read It
No
Location
Magic Library (Home)
Condition
Mint
Owner
Bryan-Keith Taylor
Milbourne Christopher

Milbourne Christopher (1914 - 1984) was one of America's foremost illusionists, performing in sixty-eight countries.

He wrote more than twenty books, was national president of the Society of American Magicians (SAM), and was an honorary vice-president to the London Magic Circle. Milbourne Christopher was also chairman of SAM's Occult Investigating Committee and was one of the original members of CSICOP.

His collection of magic memorabilia contained prints, paintings, photographs, posters, playbills and drawings of the greatest conjurors in history, and was the largest in private hands. Many of these items appeared in his book The Illustrated History of Magic. Friends recall that he was warm and willing to counsel and share his knowledge with new magicians. Christopher was married to Maurine Brooks, co-author of The Baker-Brooks History.


His books include:

1969 Houdini: the Untold Story
1970 ESP,Seer & Psychics: What the Occult Really Is ISBN 0-690-26815-7
1973 The Illustrated History of Magic ISBN 0-435-07016-9
1975 Mediums, Mystics, & the Occult: New Revelations about Psychics and their Secrets ISBN 0-690-00476-1
1977 Milbourne Christopher's Magic Book
1979 Search for the Soul: An Insider's Report on the Continuing Quest by Psychics & Scientists for Evidence of Life After Death ISBN 0-690-01760-X