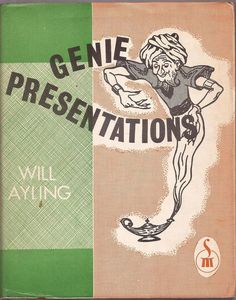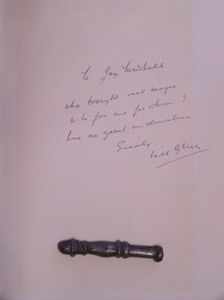 Genie Presentations
Supreme Magic Company (1972)
In Collection


#3441
10*
Conjuring
Magic
Hardcover 
England 
English
Ayling, Will: Genie Presentations
©1972 (circa) Supreme Magic Company, Devon, England
Hardcover, 163 pages

A diverse group of effects are explained, with much humor. Ayling prides himself on being a magic general practitioner. With line drawings of the various props and apparatus required for: woman through hoop, puppets, disappearing woman, salted newspaper, umbrella to plant, handkerchief sleights, the Goldston straight-jacket, etc. With presentation tips.

Comments: Illustrations by L.B. Edmunds.

Contents:

3 Dedication
4 Photo of Will Ayling
7 Foreword (Lewis Ganson)
9 Preface (Will Ayling)

11 Chapter One - Dinner Has Been Served
13 Juggling Tumbler: glass penetrates a silk while suspended on a stick
16 Candied Crystal Fortune: a crystal ball reveals the card selection, and a shower of candy is produced
20 A Pinch of Salt: cover is torn from a magazine, potato chips and salt are produced, and the cover is restored
24 Fashion Parade: a fashion magazine rises and lowers on a string under command
27 Find the Lady: a Jumbo Three Card Monte presentation
32 Invisible Pack: Ideas for quick delivery of the card
34 Interlude: paying attention to dress

35 Chapter Two - In Character
37 The Mouse: making the handkerchief mouse look alive
39 The Handkerchief Mouse: how to fold it
39 The Rat: a simple pattern
41 Golden Lotus Blossom: petal to egg to goldfish and more!
43 - Max Sterling Egg: how to prepare it
44 - Aquarius: how it is gimmicked
45 - Umbrella to Plant: how it is built
46 The Four II'ices: A Four Ace trick with a Cockney accent
49 Ariel Fishing: three goldfish are caught in the air with a special pole

53 Chapter Three - Intimate
54 Out of this World Switch: Will's version of the Paul Curry classic
57 Flash Photo: signed blank paper gets image of card selection
61 Chink-A-Chink: using boxes with a shell
65 Hapu and the Caskets: close-up apparatus trick with an Egyptian Mummy
70 Singular Cup and Ball: a Chop Cup routine using an additional glass, mechanical chick load, and a Topit
75 Topit Gaming Bag: how to make it

78 Chapter Four - Youngsters
80 The Magic Fan: The routine outlined
82 - Fan and Flags: Eric Lewis' Dirty to Clean/Supreme's Super-Soap silk effect
84 - Magic Washing: Grandmother's Necklace
85 - Production of Glasses of Liquid: how to make the fake
86 - The Servante: explained
86 - The Get-Away: a handy "removable" servante
87 - The Egg Cup: a servante used for the Egg Bag Hat portion of the act
89 The Rose Garden: a dressing for the Sympathetic Silks
02 Merlin's Cloak: act around a magical cape
94 Master Bowl Production: Giant Bowl of Water production
96 Bunny Tales: live rabbit production from a "bunny book"
98 Book of Spells: idea

99 Chapter Five - Lilliputians
100 Aladdin and his Wonderful Lamp: A full Glove and Rod Puppet Show
106 Construction: how to make the stage
110 The Special Effects:
110 - The Sawing Through
110 - The Fishing Episode
110 - The Vanish of the Golden Palace
111 - The Flying Carpet
111 - The Snake Charmer
111 - The Cave
112 Puppet Construction

115 Chapter Six - Carousel
117 La Merton - The Dragon-Fly: a Side-Show illusion of a dragonfly with a girl's head
120 Escape: presenting an entertaining escape
122 The Goldston Strait-Jacket: how it is constructed

124 Chapter Seven - Happy Talkie Talk
127 Leipzig's Penetrating Card Trick: Chosen card penetrates handkerchief
130 The Birth of a Rabbit: some history of Victorian charlatans

134 Chapter Eight - Saturday Night Spectacular
138 There's Showmanship Ballyhoo: comedy
139 En Rapport Comique: a comedic play with a girl medium
143 La Femme Disapaitre: the lady vanishes and comes in to the back of the audience
145 De Kolta Vanishing Lady: in a special chair
147 Cataleptic Suspense: the show continues with a chair suspension
149 Chair Back Suspension: described
150 Costume Escape: another illusion
153 Funny Rope Tie: the rope tie explained
154 The Golden Shot: a crossbow illusion
158 The Bucket Ducks: water, buckets and ducks illusion!
160 Triple Production: production from tubes

163 Last Words: ensure you deliver on your performance!

Dewey
793.8
Extras
Autographed
No. of Pages
163

Read It
No
Location
Magic Library (Home) Shelf A
Condition
Very Fine
Owner
Bryan-Keith Taylor
Will Ayling

Born
William Richard Ayling
March 2, 1914
Portsmouth, England

Died
May 23, 1992 (age 78)

Will Ayling (1914-1992), illusionist, close-up performer, and collector of antique magical apparatus was a past President of the Portsmouth Magical Society and of The British Ring.

Biography

Ayling assisted Lewis Ganson with his Teach-In Series, often appearing in the photographs which accompanied the text. He followed the series with his own "Know How" series of books dealing with individual effects or routines. [1][2]

Books
The Art of Illusion (1968)
Genie Presentations (1972)
Oriental Conjuring (1981)
Knowing the Ropes (1987)
Knowing the Egg Bagg (1988)
Knowing the Chop Cup (1989)
Knowing the Rising Cards (1991)


References
1.↑ Cover The Gen July 1968
2.↑ Cover Linking Ring November 1982